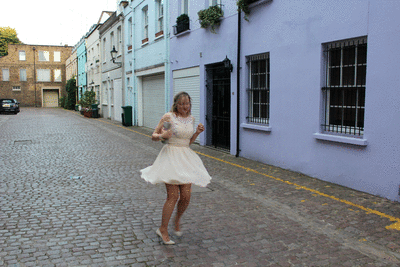 I couldn't
believe that I was finally going to the Royal Albert Hall for one of the BBC
proms concerts. I'd dreamt of going to
the venue since I was a little girl and now I was finally going to see what all
the fuss was about.
I had been invited to join the audience at the BBC Proms 65 concert on Saturday 31st; I decided to take fellow blogger friend Sophie and were both pretty excited about going…
I won't lie I've applied every year to go to the last night of the proms
and failed each time, I live in hope that one day I'll get to attend
instead of having a Proms party at home but actually going to another
concert in the run up was extremely exciting.


Personally
I'm a big classical music fan but my knowledge of certain composers and any contemporary
or abstract pieces is somewhat quite limited.
After searching the BBC Proms website for concerts I discovered the BBC
Proms 65 which was film music to be performed by the BBC Concert Orchestra
conducted by none other than Keith Lockhart.
.
Without necessarily knowing it we all will all know some kind of film theme tune and many will have heard of the very talented John Williams.


The Outfit
In true form I hadn't a clue what to wear. I wanted to look like I'd made an effort for such an event, so I went with a beautiful dress from Little Mistress.
I went for a nude palette for the evening as I figured my
days were numbered for wearing light colours, so thought I'd simply embrace the
warm summers evening.

What I'm wearing:
Dress Little Mistress Heavily Embellished Keyhole Back Party Dress* – £60.00
-This is currently out of stock but a super cute similar one is the Little Mistress Cream with Flower Detail Prom – £55.00
Bag – Vintage
Earrings – Oliver Bonas
Heels – AllSaints Cream Suede Heels




I didn't add much to this look purely because this kind of dress really does the talking! This gorgeous cream chiffon dress is embellished around the neckline with a satin look waistband and key hole back detail. It felt amazing on and whilst waiting for my train I kept getting compliements off everyone. I did get slightly annoyed with the netting underneath as I kept forgetting it would work its way up after I'd been sitting down! The netting however gave a little lift creating the nipped in waist with the prom style skirt.… it was the ideal dress for this event.






The Show
Film music from British war films dominated the first half
with Walton's original music for 'Battle of Britain'. For me I feel quite moved with nostalgia when
I hear these sorts of songs, mainly because it makes me think of the heroic
people from our past.
Personally my favourite piece from this entire section was
the March from Ice Cold in Alex; it had a wonderful build up from the strong
brass section and drum making you picture all the men marching off to save
their country. Something I didn't
realise was how British battle music makes you feel very patriotic, do you ever
feel that?
After the war themed introduction we were then moved onto
the talents of Viola player Lawrence Power, who played pieces from the costume
drama Lady Caroline Lamb. I've never
been one to stop and listen to string solo or more specifically a viola, but I
was surprised how much I enjoyed the pieces played by Lawrence; smooth, calm
and extremely relaxing.
The next piece was Warsaw Concerto from Dangerous
Moonlight. With this piece we had the
presence of pianist Valentina Lisitsa and my goodness I have never seen anybody
play the piano quite like she did. When
she was playing it didn't even look like her fingers had touched the keys, now
I play the piano but to play like that is pure talent! That particular piece was something you'd
envision in a dream and it made me wish I still had a piano at home.
After the interval we were onto what I like to call
'Futurist Battles', from the likes of Alien, 2001: A Space Odyssey,
Independence Day, Star Trek and of course Star Wars.
For me I was more excited about this half of the concert
because I love all of those films. My
Dad has always been a sci-fi film nut and I'm exactly the same… May the force be with
you.
The films by George Lucas are iconic on their own accord
but equally so the music goes hand in hand with it. Is it the film that makes
the music? Or the music that makes the film?
The BBC Concert Orchestra gave a world class combination of Star Wars
classics; the Imperial March, Princess Leia's Theme, Cantina Band and the Main
Title.
I couldn't believe what a marvellous experience I'd had; as
if just going to the Royal Albert Hall alone wasn't enough the music was out of
this world. I loved the way the set had been put together mixing old film with
new film, allowing all ages to get something from the concert. They really did finish on a high with a
filmic encore being another John Williams classic, none other than the theme
from Superman.
If you're thinking about seeing classical music or want to
learn some more, check out the BBC Proms website or even listen to the BBC Proms 65. There is this misconception
that classical music is stiff and boring, it really isn't and you'd be
surprised how many fantastic theme tunes all stem from classical songs. If you can't make any concerts make sure you
catch the Last Night of The Proms and I'm sure you'll fall in love with the
music just like I did.
xoxo