*THIS COMPETITION IS NOW CLOSED*
var _gaq = _gaq || []; _gaq.push(['_setAccount', 'UA-26545067-1']); _gaq.push(['_trackPageview']);
(function() { var ga = document.createElement('script'); ga.type = 'text/javascript'; ga.async = true; ga.src = ('https:' == document.location.protocol ? 'https://ssl' : 'http://www') + '.google-analytics.com/ga.js'; var s = document.getElementsByTagName('script')[0]; s.parentNode.insertBefore(ga, s); })();
As you may or may not be aware but I'm in the process of moving home. When browsing other peoples houses I can't help but invision how I might interpret my perfect look into each room. When I saw what my potential master bedroom might look like, it truly got me thinking about how I could change it.
We often want to refresh our interiors and that's perfectly normal, but how might you go about doing it? The possibilities are endless. It might be a complete revamp or maybe just a small alteration, it could even be a new bedding set from the feminine Coco Amethyst collection, or perhaps a touch of coastal print.
For the chance to win a £1000 Laura Ashley gift card to refresh your room for spring, all you have to do is:
1: Take a photo of your room – we want to see what you're working with!

For example –
This is the room I'd very much like to refresh… have you got one?
…It's best not to even say anything!
2: Tell us how you'd refresh it for Spring – pick two (or more if you'd like!) items from the Laura Ashley Bedroom Furniture and Accessories ranges that you think would help create the perfect environment for spring and pop them into a blog post with a few works telling us why they'd work for you. Be sure to link back to this post in your entry
A few ideas –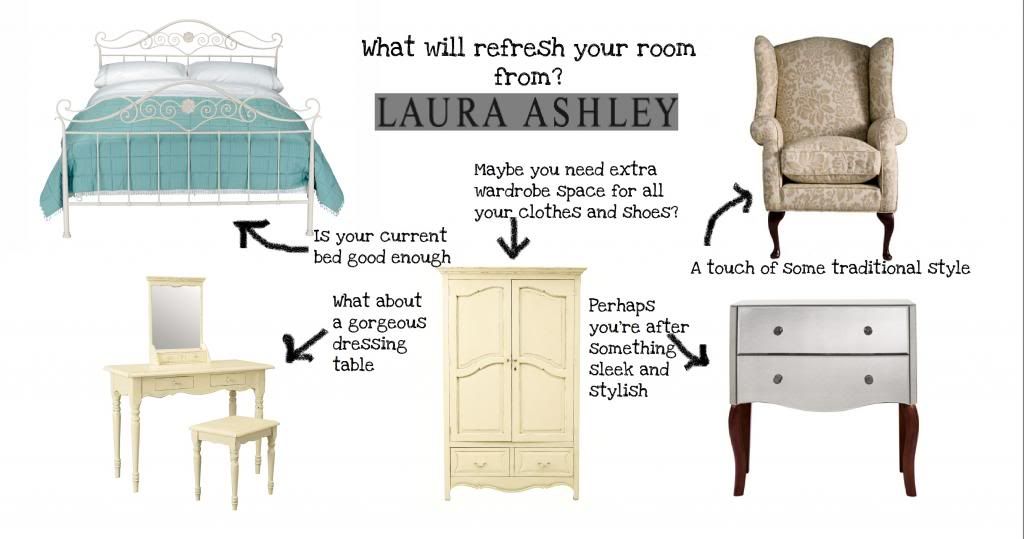 What will you chose for your room?
3: 3: Let us know you've entered – leave a comment on this post which includes your name and the URL of your post and tweet the link to your post using the hashtag #LARoomRefresh – this will allow us to count your entry
Good luck!
Terms & Conditions:
The following terms and conditions will apply to the competition:
The competition is open to UK residents only and all entrants must be over 18.

This Competition is not open to employees of Laura Ashley, their family members, or anyone professionally connected with the competition.

The competition will run from Friday 10th May 2013 09:00 GMT until Friday 7th June 2013 00:00 GMT.

Any entries received or processed after the closing date will not be eligible to win.

Entries which do not refer back to the original competition announcement on

https://www.talesofanniebean.com/

will not be eligible to win.

Entrants must tweet using the hashtag #LARoomRefresh and a comment on this blog post including their name URL of their entry for it to be counted.

By entering the competition the participant agrees to participate in reasonable promotional activity surrounding the competition.
· It is the responsibility of the participant to ensure their entry meets entry requirements and is submitted successfully.
Only one entry is allowed per person.

The winner may be required to provide additional information such as their address and telephone number.

The winner will be announced on

https://www.talesofanniebean.com/

shortly after the competition closing date.

If Laura Ashley cannot contact the winner within 14 days of the prize draw, Laura Ashley reserves the right to select a new winner.

The prize is a £1000 Laura Ashley Gift Card. Terms & Conditions apply, click

here

for details.

The competition winner is not entitled to exchange the prize for any cash alternative.

https://www.talesofanniebean.com/ and Laura Ashley reserve the right to exclude from the competition any entry that does not meet criteria set out in these terms and conditions.

https://www.talesofanniebean.com/ and Laura Ashley reserve the right to change, suspend or terminate the promotion and entry period at any time. They may also disqualify participants if they have any reason to believe that the promotion cannot be carried out fairly or if they suspect any person of manipulating entries or results or has acted unethically in any other way.
What are you waiting for?! Get your creative thinking caps on!
Remember you've got to be in it to win it.
HEAD TO MY COMPETITION BLOG POST TO LEAVE A COMMENT THERE TO ENTER.
xoxo